The Community and Collaboration Core's Team Science Coffee Break Series offers collaborative learning and practical tips on building effective multidisciplinary, translational science teams.
Each session will focus on a specific facet of Team Science and provide the opportunity to take a "deeper dive" into that area. We'll hear from experts in managing teams and discuss our challenges and share strategies that work for research teams of all types.
An approximately 30-minute didactic session will be followed by an interactive Q & A in which participants can talk through real-world challenges they are facing around the topic. Following the event, short recordings of the didactic portion will be made available.
---
September Coffee Break
Videos and presentations coming soon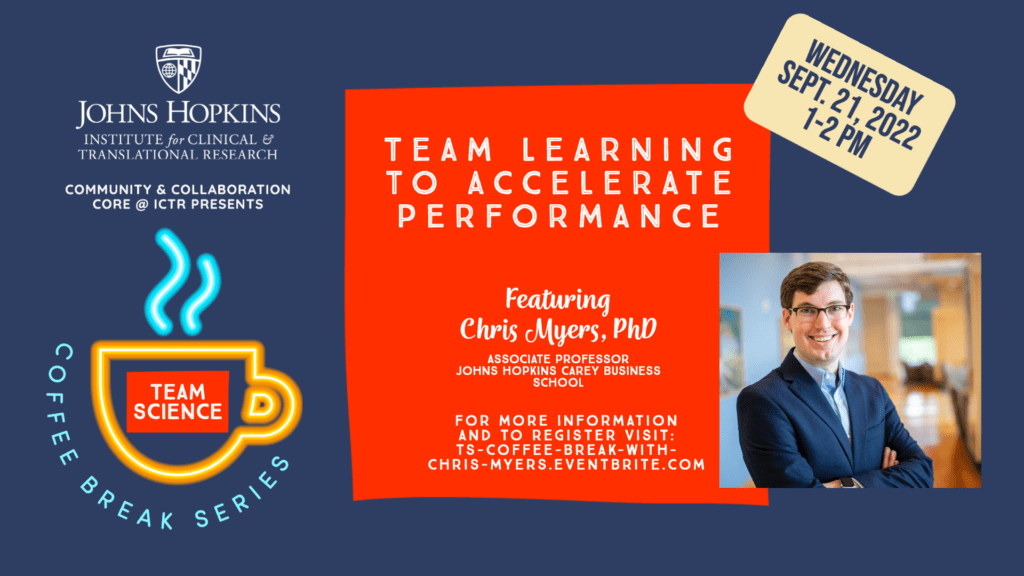 About the Session
Harnessing the knowledge and experience of teams is essential for sustained, innovative, performance in modern organizations. This session will promote greater learning, both among team members and from the experiences of others outside the team's boundaries.
About the Speaker
Christopher G. Myers, PhD is an Associate Professor of Management and Medicine, and the founding Faculty Director of the Center for Innovative Leadership, at the Johns Hopkins Carey Business School. His research and teaching focus on individual learning, leadership development, and innovation in health care and other knowledge-intensive work environments.
For more information about Dr. Myers, visit https://christophergmyers.net.