This session focuses on the science of meetings and how to improve their effectiveness for teams, especially when working virtually.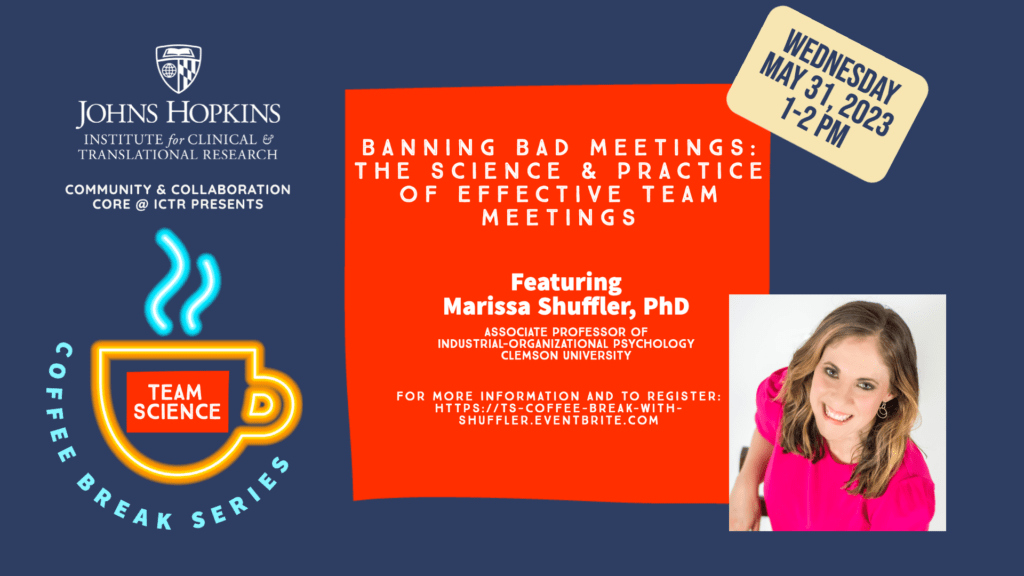 Recordings coming soon
About the Session:
Team Science Coffee Break: Banning Bad Meetings, The Science & Practice of Effective Team Meetings
Meetings are an inevitable component of interdisciplinary teamwork—for better, or more often, for worse. This session will focus on understanding the science of meetings and how to improve their effectiveness for teams, especially when working virtually. Concrete recommendations and best practices will be offered regarding activities that can be conducted before, during, and after meetings to help facilitate success.
About the Target Audience:
This workshop is appropriate for members of translational science and biomedical teams interested in improving their ability to lead or work within research teams effectively. Whether you are starting a new team or seeking to enhance the effectiveness of your current team, this coffee break will provide you with insights and tools to apply in your work.
About the Speaker:
Dr. Marissa Shuffler has over a decade of experience conducting basic and applied research in the areas of team development, leadership, and organizational effectiveness. Dr. Shuffler is the Wallace R. Roy Associate Professor of Industrial/Organizational Psychology at Clemson University, and Director of Clemson's DIGITAL (Deriving Innovative & riGorous scIence for Teaming And Leading) Research Lab.
Her research focuses on the study of scientifically derived, innovative interventions that facilitate effective team functioning and well-being in organizations. Dr. Shuffler specifically focuses on teams operating in high risk and complex environments including healthcare systems, the military, manufacturing, spaceflight, and teams working with technology (e.g., artificial intelligence, robotics).
She has served as scientific lead on numerous interdisciplinary research collaborations, working with agencies such as NASA, Prisma Health, the National Cancer Institute, and is currently the Clemson Institutional PI on a $6 million cooperative agreement with the U.S. Army Research Institute, investigating team composition and teaming dynamics with Rice University, Florida Tech, Michigan State, the Group for Organizational Effectiveness (gOE), and Aptima. To date, Dr. Shuffler has secured over $15 million in grant funding as either a Principal Investigator or Co-Investigator from federal and private entities. In 2017, she was awarded a prestigious National Science Foundation CAREER grant for her research exploring team development interventions and the use of latent profile analysis as a mechanism to better inform intervention design. Dr. Shuffler's published work to date includes an edited book, over 70 scholarly publications, and over 200 presentations.