2019 Marks the 10th Anniversary of the Henrietta Lacks Memorial Lecture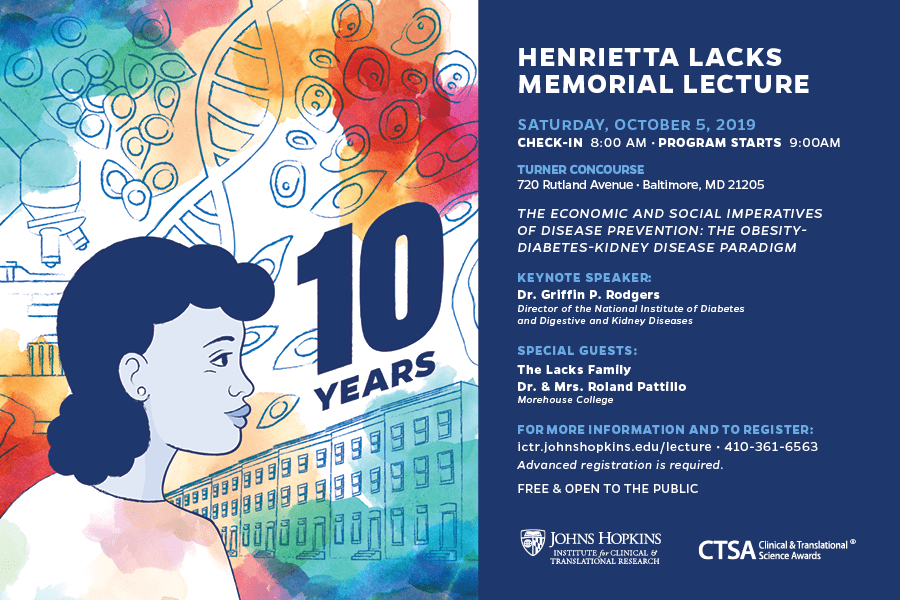 2019 Henrietta Lacks Memorial Lecture Video Recording
This year marked the 10th anniversary of an event created to commemorate Mrs. Henrietta Lacks and her contributions to medicine and science. On Saturday, October 5, more than 700 Baltimore community members attended the annual Henrietta Lacks Memorial Lecture held in Turner auditorium.
Mrs. Lacks, an African-American woman from the Turner's Station neighborhood, sought medical treatment at Johns Hopkins Hospital in 1951. A sample of her cells were taken and those cells became the first to reproduce in a laboratory setting. By doing so, the they gave researchers the opportunity to better understand and treat diseases.
Dr. Griffin Rodgers, director of the National Institute of Diabetes and Digestive and Kidney Diseases (NIDDK), served as the keynote speaker. In his presentation, "The Economic and Social Imperatives of Disease Prevention: The Obesity-Diabetes-Kidney Disease Paradigm," Rodgers shared that his institute is responsible for some of the most common and chronic conditions that disproportionately affect people of color and disadvantaged communities.
"The obesity epidemic is leading to type 2 diabetes. Type 2 diabetes is a major driver to chronic kidney disease."  Rodgers stated that African Americans suffer from chronic kidney disease at a rate of 3 times higher than whites however, "science can be a very important tool for social justice."
Following Rodgers' talk, a panel which included two members of the Lacks family, Veronica Robinson and David Lacks Jr, fielded questions from the audience. When asked about the ability to address obesity given that the Department of Agriculture subsidizes bad food, Robinson replied, "Due to the varied portion sizes and availability and access to healthy food, it is up to people to be more proactive in their health try to find alternative food choices." She went on to acknowledge that healthy eating can at times be difficult due to the higher costs and options available in certain communities.
MERIT Health Leadership Academy was selected as the winner of the Johns Hopkins Urban Health Institute's Henrietta Lacks Memorial Award. The award recognizes Baltimore City community based programs working in partnership with Johns Hopkins University. "MERIT's mission is to educate and empower students from underrepresented backgrounds to become health care professionals and change agents, equipped to advance equity," said Devin Harris, MERIT's 2021 class president, who accepted the $15,000 award. The group plans to use the award to increase from 94 to 225 the students they serve in the 2019-2020 academic year.
The event also announced Serigne Ndiayel as the recipient of the Henrietta Lacks Dunbar Health Sciences scholarship. The $40,000 college scholarship is awarded annually to a junior attending Paul Laurence Dunbar High School who chooses to major in the health or science field. "In college, I hope to follow a pre-health track while also taking courses to explore my urban development, real estate and public health interests," states Ndiayel. He wishes to pursue a career working towards health and housing equity in Baltimore.
Article by Crystal Williams
Images by Joshua Franzos & Richard Zhu