Welcome to the Henrietta Lacks Memorial Lecture.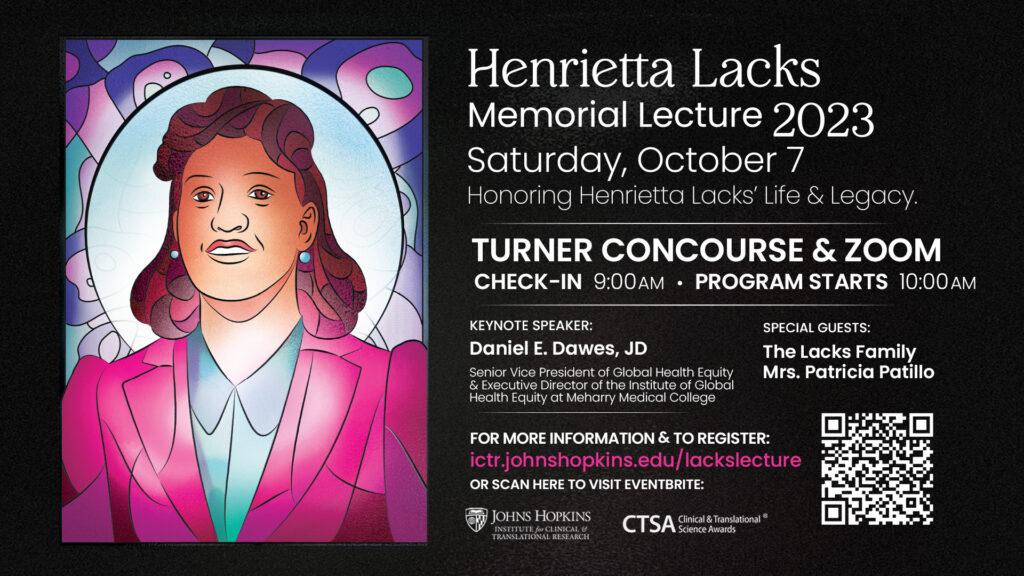 Register for the 2023 Henrietta Lacks Memorial Lecture
Join us in honoring the legacy of Mrs. Henrietta Lacks, Saturday, October 7 at 10:00 am. This year, we celebrate the 13th Anniversary of the Henrietta Lacks Memorial Lecture both in-person and virtually. We are pleased to have Daniel E. Dawes, JD, Senior Vice President of Global Health Equity and the Executive Director of the Institute of Global Health Equity at Meharry Medical College, as our keynote speaker.
The 2023 winners of the Urban Health Institute's Henrietta Lacks Memorial Award and the Henrietta Lacks Dunbar Health Sciences Scholarship will be announced and the 2021 and 2022 scholars will be acknowledged.
All are welcome, please share the event flyer. You may select how you wish to attend upon registration. Register early, spaces are limited.
Thank you, Henrietta!
Check-in begins at 9:00 am at Turner Auditorium, 720 Rutland Avenue, Baltimore, MD, 21205. Free parking is available in the Washington Street Garage, 701 N. Washington Street, Baltimore, MD, 21205. Lunch will be provided.
---
The goal of the series is to honor Henrietta Lacks and the positive global impact of HeLa cells. This series will also serve as an annual reminder of the gratitude, respect, and clear communication due to all research participants.
Keeping biomedical research connected to the people it is intended to serve is an ongoing process rooted in the open exchange of ideas among all stakeholders. To facilitate this process, speakers for the Henrietta Lacks Memorial Lecture Series are selected for their ability to communicate the current ethical complexities and challenges facing biomedical research in a way that is engaging and accessible to scientists, health care providers, and members of the lay community alike.
By coming together each year to remember the woman behind this lifesaving, world-changing development in biomedical science, the Johns Hopkins research community will never again forget that HeLa stands for Henrietta Lacks.
The Henrietta Lacks Memorial Lecture will always be free and open to the public.