2013 Henrietta Lacks Memorial Lecture Video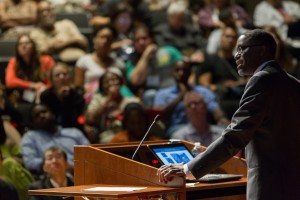 Gary Gibbons, M.D., director of the National Heart, Lung, and Blood Institute of the National Institutes of Health, delivered the keynote address at Saturday's Fourth Annual Henrietta Lacks Memorial Lecture, sponsored by the Johns Hopkins Institute for Clinical and Translational Research.
Gibbons spoke to nearly 1,000 attendees about the importance of community involvement in scientific and medical research.
A young mother of five from eastern Baltimore County, Henrietta Lacks died in 1951 of an aggressive cancer, despite radiation treatment at The Johns Hopkins Hospital. The small tissue sample taken from Mrs. Lacks yielded cells that would help advance scientific and medical research for decades; where samples from other patients bore cells that died in days or even hours, Mrs. Lacks' cells divided and lived on. To this day, HeLa cells — named for Henrietta Lacks — are advancing science and medicine all around the world.
As part of the pre-lecture program, Robert Blum, M.D., director of the Urban Health Institute, presented Safe Streets East with the institute's Henrietta Lacks Memorial Award and a check for $15,000. Safe Streets East is a nonprofit organization dedicated to mediating disputes and reducing neighborhood violence in Baltimore's McElderry Park neighborhood.
"There are few things that renew my faith in this extraordinary city more than reading the applications for the Henrietta Lacks Award," Blum said. "This year's winner, Safe Streets, takes a courageous public health approach to community violence and stresses intervention to interrupt the violence."
Dunbar High School senior Rickiya Johnson received the Henrietta Lacks Memorial Scholarship, a four-year scholarship from The Johns Hopkins Hospital and school of medicine and awarded to a Paul Laurence Dunbar High School student interested in pursuing science or medicine.
"This scholarship honors Mrs. Lacks' legacy," said Dan Ford, M.D., M.P.H., vice dean for clinical investigation and director of the Johns Hopkins Institute for Clinical and Translational Research. "We're proud to support a young scholar as promising as Ms. Johnson."
Dunbar principal Kristina Kyles said Johnson "embodies Dunbar Poet Pride. She's a three-sport athlete, a distinguished member of our school's Emergency Medical Technology program and a certified high school first responder." (The poet is the high school's mascot, in honor of poet, novelist and playwright Paul Laurence Dunbar.) In addition to encouraging community participation in research and clinical trials, Gibbons saluted Mrs. Lacks.
"It's an honor to pay tribute to a great woman," Gibbons said in his keynote address. "I would say that Henrietta Lacks has been more prolific and has had a greater impact than any professor or scientist. She's generated 70,000 publications in the finest journals around the world. Cell biology, cancer biology, vaccine development, drug development — it goes on and on. She has made a contribution to the commonwealth of science that is staggering."
Keynote speakers at previous Henrietta Lacks Memorial Lectures have been author and Atlantic columnist David Ewing Duncan; Medical Apartheid author, Harriet Washington; and The Immortal Life of Henrietta Lacks author, Rebecca Skloot.
Courtesy of,
Patrick Smith
Senior Communications Specialist
Johns Hopkins Medicine
Marketing and Communications