Family Recognition, Community Awards, and Author Highlight Henrietta Lacks Memorial Lecture 2010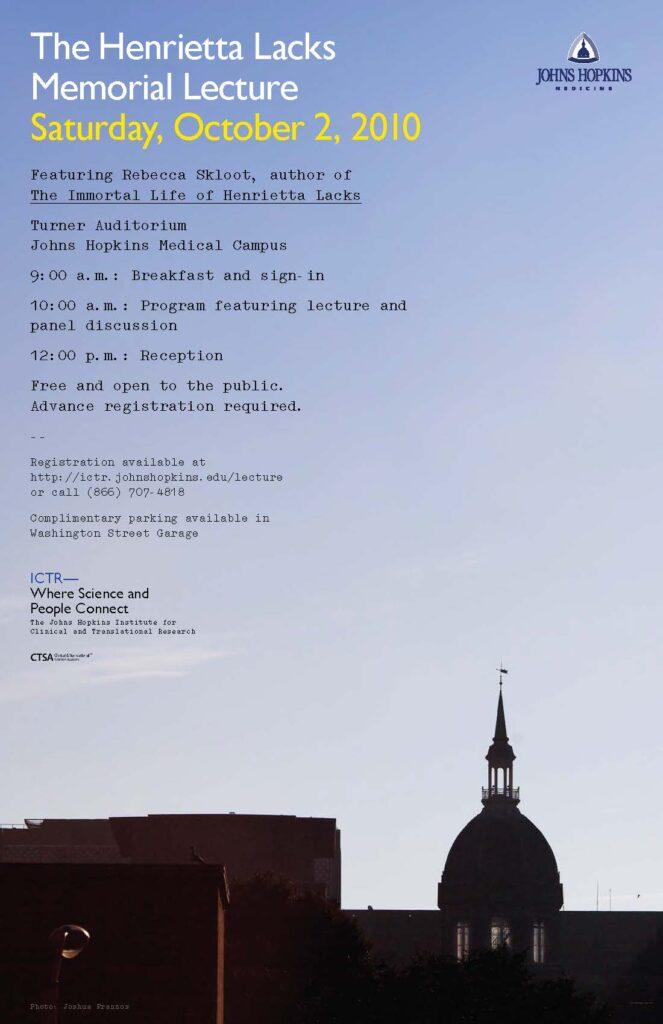 The Johns Hopkins Institute for Clinical and Translational Research (ICTR) was honored to sponsor the first annual Henrietta Lacks Memorial Lecture on Saturday, October 2, 2010. More than 20 members of the Lacks family were warmly welcomed and recognized by the approximately 600 attendees gathered in Turner Auditorium.
The occasion marked the inauguration of the Henrietta Lacks Memorial Lecture Series, which was announced by Daniel E. Ford, MD, MPH, ICTR director and vice dean of clinical investigation at Hopkins. Also announced were the Henrietta Lacks East Baltimore Health Sciences Scholarship, sponsored by the Johns Hopkins Health System, which provides up to $10,000/year to support promising graduates of Paul Laurence Dunbar High School; and the Henrietta Lacks Award for Community-University Collaboration, sponsored by the Johns Hopkins Urban Health Institute, which provides a $15,000 annual award to recognize outstanding, pre-existing community-university collaborations in Baltimore.
The program featured a presentation on the scientific relevance of HeLa cells by Hopkins faculty member James J. Potter; a presentation on the history of HeLa cells by special guest Roland Pattillo, MD, professor of obstetrics and gynecology at Morehouse School of Medicine; and a talk by The Immortal Life of Henrietta Lacks author Rebecca Skloot. A question-and-answer period with Ms. Skloot, Dr. Ford, and Harvey M. Meyerhoff Professor of Bioethics and Medicine Jeremy Sugarman, MD, MPH, was followed by lunch and a book-signing by Ms. Skloot and members of the Lacks family.
For additional perspective on the events and significance of the day, ICTR recommends this unsolicited blog entry written by a Johns Hopkins Nursing student:
http://blogs.nursing.jhu.edu/first-annual-henrietta-lacks-memorial-lecture-at-johns-hopkins.
Photo Credits: Joshua Franzos
---
Additional Information:
Learn About Mrs. Henrietta Lacks