Core for Clinical Research Data Acquisition (CCDA)
The Core for Clinical Research Data Acquisition (CCDA) assists researchers with accessing clinical data for research purposes. The CCDA is staffed with experienced data analysts who will assist you with access to data while also helping you comply with Data Trust privacy and security regulations.
Who is the CCDA?
The Core for Clinical Research Data Acquisition (CCDA) is one of the 10 Data Trust analytic teams responsible for assisting researchers with accessing clinical data for research. Additionally, we are one of the clinical research informatics cores under the Institute for Clinical and Translational Research.
What Services Are Provided?
Preliminary, anonymous data for feasibility, grant applications and statistical population sample-size estimates
IRB-approved case-finding for study enrollment (mailings, phone solicitation), chart review, and cohort/case-control studies
Natural Language Processing service–Text mining and information extraction methods to identify disease, medications, symptoms, and signs from clinical text, as well as artificial intelligence techniques for sentiment analysis, opinion mining, measuring cognitive ability, and exploring social determinants of health.
Research data extracts
Data de-identification services to confirm to HIPAA Privacy standards
Honest Broker services
Assistance using Epic's SlicerDicer and TriNetX self-service tools
Why is There a Charge?
We have built an infrastructure that enables data through a secure, repeatable process that meets your needs, the institution's values, and applicable privacy and security laws and policies. We looked at how comparable research institutions met this demand, and determined to pursue this approach. Similar to the 20+ other service centers at JHU such as the Genetic Core, the Biological Repository, and the Training and Management Development programs, we have developed a no-profit, revenue neutral approach that aims to provide high quality, lowest possible cost service to the research community. This hourly cost includes analysts, database administrators, servers, software, and management.
Rates:
First two hours of guidance and feasibility – No Charge
Analysis and data extract services for IRB-approved research – $84/hour ($100/hr for senior staff)
Analysis and data extract services for quality improvement – $114/hr
Ongoing maintenance of established periodic extracts – factored into initial cost
Who Are Our Customers?
Our customers can include researchers' IRB-approved research studies, including, but not limited to researchers from the School of Medicine, School of Public Health, and the School of Nursing.
What Data Sources Are Available?
Our team is comprised of trained data analysts with access to multiple data sources including Epic, CaseMix/Data Mart, EPR2020 (Electronic Patient Record), Clinical Research Management System (CRMS), and Sunrise Clinical Manager (POE).
What Data Do We Provide?
Frequently requested data elements include:
Demographic data (age, gender, race, ethnicity, contact information)
Encounters/Visits (dates/times, locations/clinics, visit providers)
Diagnoses (problem list, recorded at the encounter, billed)
Lab Results
Medications (ordered, administered, patient-reported)
Procedures (surgical, imaging, etc.)
Flowsheet variables (vitals, etc.)
Questionnaires (Depression screening, surveys)
What Data Is Available in Epic?
Data availability in Epic depends on many factors, including clinic/location, specific data elements, and Epic go live at each location. See the graphic below for a timeline of available data.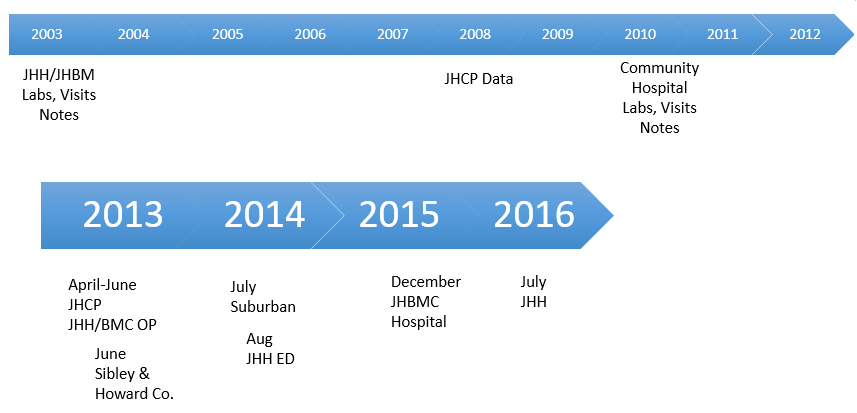 How Do I Get Started?
To get started you can submit a request to our team using the iLab portal (https://johnshopkins.corefacilities.org/service_center/3796?tab=requests).  Please click the login button on the top-right of the window; then, select "JHU user". The CCDA manager will contact you within two business days to schedule a brief intake meeting to discuss your specific requirements.
What Information Is Considered When Structuring a Request?
In order to prepare for your initial intake meeting, it is often helpful to consider the following components regarding the specific data elements of interest: who, what, when, where, and how often. Please see the graphic below for more information about how to turn your high concept into an actionable request!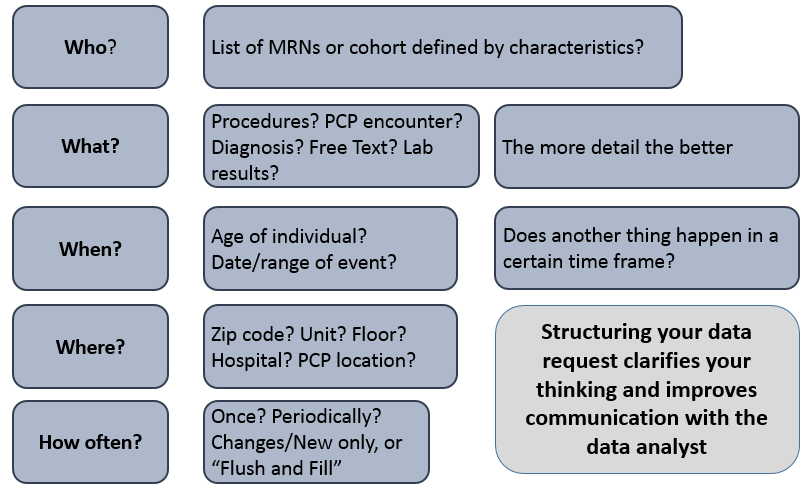 How Can the CCDA Assist Me in Ensuring Compliance with IRB and Data Trust Best Practices?
As part of our Honest Broker responsibilities, the CCDA will only deliver data extracts to secure locations approved by the IRB and Data Trust. We recommend requesting a SAFE Virtual Desktop when specifying the location for PHI storage and analysis. The SAFE is a Windows 10 desktop installed with statistical software including R Studio, SAS, Stata, MS Office productivity suite (Excel, Word, Access), and Python. By using this virtual desktop, you can ensure that the data we provide will be secure.
For more information on data trust and the SAFE Desktop, please refer to the following other informational pages.
How Long Does a Project Usually Take?
As you can see in the graph below, a majority of the projects that the CCDA handles are small-medium sized, with a majority of time being spent on medium-large projects. The CCDA is happy to work with you no matter how complex your project is.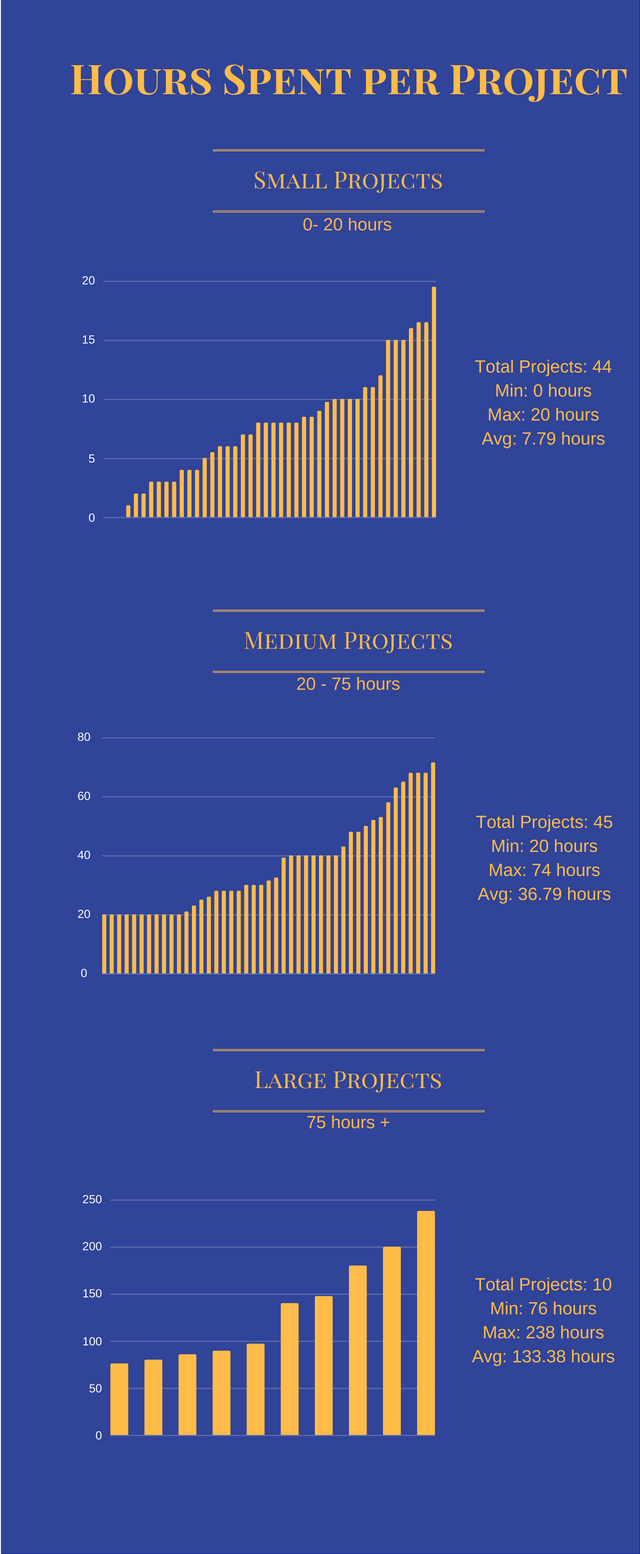 Annual Reports