2023 Asian and Pacific Islander Achievers Award Winner Cyd Lacanienta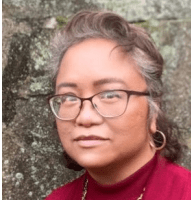 Cyd Lacanienta, MSW is the Associate Director for Stakeholder Engagement of  the ICTR Community and Collaboration Core. 
Cyd Lacanienta cares deeply for Baltimore City, especially the communities of color. She has a passion for advancing HIV treatment and care, and devotes her personal time to helping community-based organizations get established and secure funding
opportunities.
With deep roots in her community and local church, Lacanienta is an advocate for the elderly members, and helps young church members seek educational opportunities to advance their academic careers and go to college.
Lacanienta embodies the Johns Hopkins Medicine core values. She displays the values in her professional work and also in the
time that she spends supporting the people of Baltimore. Her compassion and commitment for helping all populations — be they youth, LGBTQIA+ or communities of color — is admirable.
There will be a Fireside Chat and Moderated Discussion with all awardees May 19, 2023  from 1:00 pm- 2:00 pm. Register.
---
Asian and Pacific Islander Heritage Month celebrates the achievements and remembers the challenges of Asians and Pacific Islanders living in America. The Asian and Pacific Islander (API) community in the U.S. is comprised of 50 ethnic groups with over 300 dialects and languages. In May, the nation reflects on the contributions this diverse population has made toward creating a more perfect union.