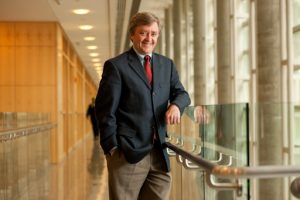 Director, Johns Hopkins Institute for Clinical and Translational Research
David M Levine Professor of Medicine
Senior Associate Dean for Clinical and Translational Research, Johns Hopkins School of Medicine
Daniel Ford, MD, MPH is the David M Levine Professor of Medicine who came to Johns Hopkins in 1982 to complete the Osler Medicine residency. After completing a fellowship in Clinical Epidemiology at the National Institute for Mental Health and his Masters of Public Health at Johns Hopkins, he joined the faculty and developed his approach to research as a member of the Welch Center for Prevention, Epidemiology and Clinical Research. He has joint appointments in Psychiatry, Epidemiology, Health Policy and Management and Nursing.
In 2005 he was appointed to be the Vice Dean for Clinical Research in the Johns Hopkins School of Medicine. As part of this role, he is the Institutional Official in charge of protection of human subjects for Johns Hopkins Medicine and the IRB committees. In recognition of his commitment to supporting clinical and translational research across the institution he was chosen to be the Principal Investigator of the CTSA grant and the first Director of the Johns Hopkins Institute for Clinical and Translational Research. Many trainees are introduced to Dr. Ford as the Director of the 2 week Introduction to Clinical Research course held each July.
Dr. Ford's research has focused on understanding the relationships between depression and chronic medical conditions, particularly coronary artery disease, and how to improve care for patients with medical comorbidity. He was one of the first investigators to publish data documenting depression as a risk factor for myocardial infarction and stroke. In the spirit of translation, he has also sustained an interest in how to utilize Information Technology (IT) to improve care of patients with depression and tobacco abuse. Moving these interventions into the commercial world has been part of this process.
Dr. Ford has broad interests and is always willing to work with research teams and patient groups to learn more about the challenges they face and how we can address barriers as efficiently and effectively as possible.
Pure Research Profile