Through Epic, we now have the ability to invite patients to studies using MyChart. Inviting patients to participate in research studies through MyChart is a new recruitment approach. In an effort to reduce unnecessary communication, the messages are targeted to patients who may be interested and eligible for studies.  The use of MyChart for recruitment requires IRB approval, and extensive care is taken to protect patient privacy. To safeguard patient privacy, PIs and research teams will not be able to see PHI.
Patients can always opt out of receiving future invitations through MyChart.  A patient may either email us at research_recruitment@jhmi.edu or request their provider opt them out by adding an "FYI Flag" to cont contact for research to their Epic Account.  We are in the early stages of MyChart recruitment and 4 patients, out of several thousands contacted, requested to opt out.
In a recent survey, we assessed what patients think about MyChart research invitations; 90 percent of surveyed patients agreed that invitations to join research studies are an appropriate use of MyChart. 60 percent reported that it did not change their satisfaction with being a patient at Johns Hopkins and 40 percent reported that it increased their satisfaction with being a patient at Johns Hopkins.Patients can always opt out of receiving future research invitations through MyChart.
Here are images of what your patient may see when they open MyChart: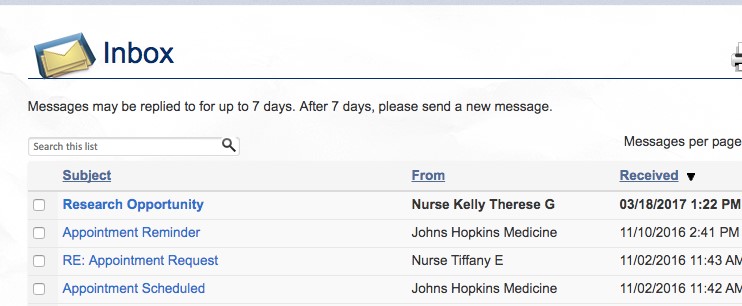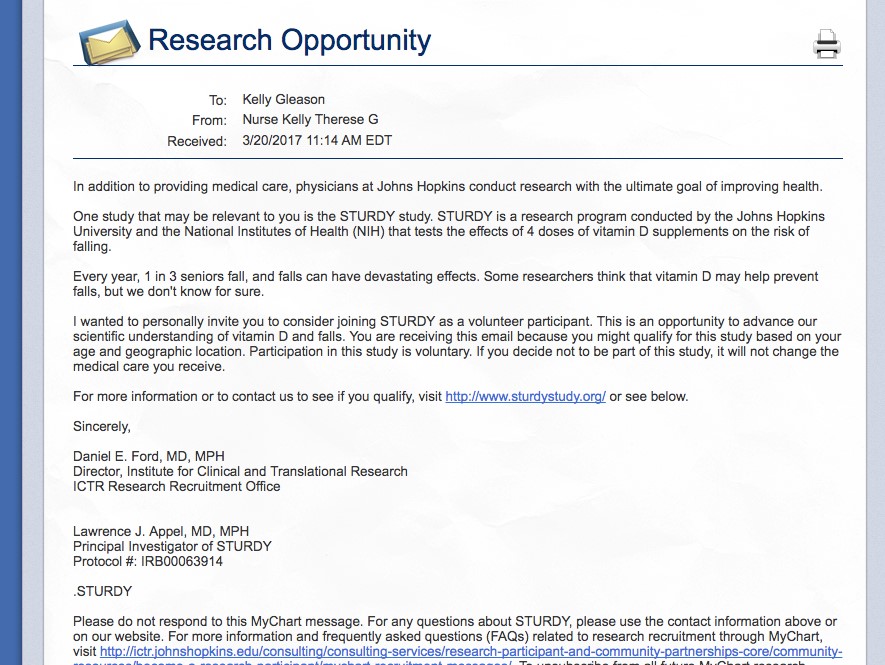 ---
If you are considering MyChart recruitment for your study, please use the following checklist:
Part I: Preparing for Submission to MyChart Recruitment Team
Determine inclusion and exclusion criteria that can be applied to electronic heath records for recruitment of the target population. We suggest trialing eligibility criteria in Epic's SlicerDicer for research groups that have Epic access. We recommend as few eligibility criteria as possible with a focus on the main criteria of our study.

Suggested minimum eligibility criteria (based upon SlicerDicer coding):

·         Demographics à Age: Define a specific age range.

·         Current patient status: Alive

o   This targets only living patients.

·         Demographics à MyChart status: Activated

o   This targets only patients with active MyChart accounts

Optional additional minimum eligibility criteria

·         Encounter type à MyChart Refill or Patient Email.

o   Set the timeframe to 1 year or more. SlicerDicer defaults to 1 day.

o   This targets patients who have ever requested a refill through MyChart or have ever sent or received a message through MyChart.

§  Please note: Clinicians sometimes copy and paste traditional email messages sent by patients (e.g., from: examplepatient@gmail.com to: johnsmith@jhmi.edu) into the documentation section in a 'Patient Email' encounter in Epic. Thus, not all patients with a Patient Email encounter have sent or received messages through MyChart.

 

Eligibility criteria aids the MyChart Recruitment Team determining if MyChart recruitment is appropriate for the target population. There is no firm rule about the number of eligible patients. If there are fewer than 100 eligible participants, applying for MyChart recruitment will probably not be worth your time. If there are several thousand eligible participants, you are more likely to have success.
Contact the MyChart Recruitment Team in order to receive a letter of approval for MyChart recruitment that you should include in your IRB application.

Email: research_recruitment@jhmi.edu, Phone: 443-304-7186
Part II: Pre-IRB Submission
Develop a MyChart recruitment message to be submitted with your study's IRB proposal. This is the actual message that will be sent out via MyChart. Please write it in a non-technical language, see attached example (STURDY Trial message)

Please include:

·         IRB number

·         PI's name

·         Contact information for the study

·         [blurb at the bottom of message linking to the ICTR website, description of the reason that the recruitment message was sent]
Part III: Post-IRB Approval
Please write brief description of your study for the ICTR website. Please include a link to the ClinicalTrials.gov listing and any study websites, if applicable. We anticipate that clinicians will be asked for details about your study by participants who contact them. This brief description will serve as information for these clinicians.

Please send this information to research_recruitment@jhmi.edu
Develop a data management plan specific to recruitment. This includes defining a group responsible for responding to MyChart recruitment inquiries, a method for tracking follow up to interested parties.

Please note: Qualtrics is the only JHU-approved online survey software. You may opt to include a link in your MyChart recruitment message linking to a Qualtrics form to collect contact information of interested patients. If you are linking to a study website (e.g., www.sturdystudy.org), all online personal information submission forms must be Qualtrics-based. Qualtrics surveys can seamlessly embed in any website using an iframe HTML tag:

 

<iframe src="https://jhmi.co1.qualtrics.com/SE/EXAMPLEQUALTRICSCODE" name="Qualtrics" frameborder="no" align="center" height="1750″ width="98%"> </iframe>

 

You cannot use Qualtrics alternatives, including Google Forms or Survey Monkey. To obtain a free Qualtrics account, please visit [url] for School of Medicine, [url] for School of Nursing, [url] for others.
Respond to each potential research participant's contact within 1 week, preferably within 1-2 business days.
Promptly report complaints specific to MyChart recruitment to the MyChart Recruitment Team at research_recruitment@jhmi.edu in order for the team to promptly address all complaints and track patient complaints.
Update CRMS for enrolled patients.
Track enrollment.  The MyChart Recruitment Team needs to understand yields.  At a minimum, we ask you to track a) the number of persons who express interest based on the MyChart invitation, b) the number who eventually enroll, and c) the number of complaints, along with the number of persons invited through MyChart.  This service is supported by the ICTR, which will need to document use of MyChart and performance metrics.
Cite the ICTR grant in subsequent publications.
If you have further questions or wish to use MyChart for recruitment, please email research_recruitment@jhmi.edu or call 443-831-8520​.