Centro SOL Translation Services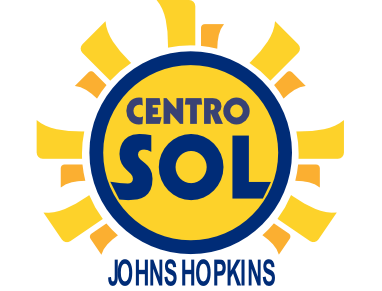 About
Centro SOL was founded in 2013 by passionate physicians who saw a need in the Baltimore community. There was not a lot of outreach for the Latino population in Baltimore City so they set out to the work themselves. Centro Sol is partnered with Johns Hopkins University and the organization's faculty are members of the Johns Hopkins University School of Medicine.  Research at Centro SOL is driven by the unique health issues faced by the Latinx population in Baltimore and beyond.
Centro SOL offers translation services as part of a larger research consultation request for services can be requested alone. If your materials have already been reviewed and are in their final version.

Research Consultation Request
Research Consultation Services include material review, study planning, participant recruitment, and study staff recruitment. It is highly recommended that study materials are approved by the IRB prior to translation.
Submit a Research Consultation Request

Translation/Transcription Request
If materials have already been reviewed for cultural competency and health literacy and are in their final version, translation services can be requested without material review. It is highly recommended that study materials be approved by the IRB prior to translation. As part of this process, please include in the request all the materials that need to be translated, indicating the target audience, reading level of participants, and survey sources, if applicable.
Submit a Translation/Transcription Request

Rates
The following rates are subject to change. Our team will send an estimate after having received your request and materials.
Translation Rates:
$0.20 per word (professional translator and review by trained bilingual staff member) or

A minimum cost of $60.00 for projects less than 1,000 words.
Transcription Rates:
Rates depend on how many people are speaking in the audio, audio difficulty, and transcription style: intelligent or complete verbatim.

Rates range between $2.00 per minute (e.g. 1 person intelligent verbatim) and $4.20 per minute (e.g. more than 5 people, complete verbatim).

Itelligent Verbatim (Cleaner and easier to read)

Complete Verbatim (Reflects all utterances, filler words, and slang)
Special Fees:
Rush Delivery Fee (rush service must be requested and approved beforehand)

Less than 10 business days: A 25% fee will be applied over the total cost if expedited delivery is required (turnaround time depends on project size and availability).

24-hour turnaround: standard cost + $0.15 per word (**maximum output for next-day delivery is 2,000 words). Please email or call (410-550-4115) to check availability.

Additional Review Fee: $35.00 per hour per review.
For more information, visit https://www.jhcentrosol.org/translation-services or email centrosolresearch@jhmi.edu.