Tis the Season to Protect Yourself Against the Flu
Posted by: Crystal Williams on: December 2, 2016 | Print This Page
Flu season has begun, but Johns Hopkins experts say the peak of the season is yet to come.
Flu cases are being reported in Maryland and across the country, and experts at the Johns Hopkins University School of Medicine expect to see numbers continue to rise. To prevent the flu, Johns Hopkins experts say everyone 6 months and older should get vaccinated against the influenza virus every year.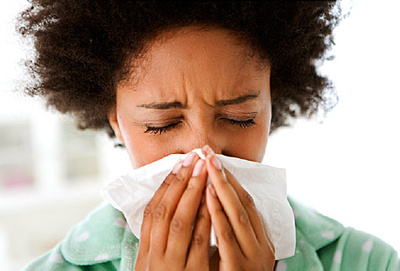 "We hear a great deal about the flu in the early fall months, but many people don't realize that flu season runs until May and peaks between December and March," says Lisa Maragakis, M.D., M.P.H., senior director of infection prevention for the Johns Hopkins Health System and associate professor of medicine at the Johns Hopkins University School of Medicine. "So if you haven't gotten your flu vaccine, it's still essential to do so."
Influenza, or the flu, is a serious respiratory illness that can affect children and adults, regardless of pre-existing health concerns. According to the Centers for Disease Control and Prevention, thousands of people die of influenza every season, and hundreds of thousands are hospitalized. The flu can also lead to complications like pneumonia, ear and sinus infections, or worsening of chronic medical conditions.
Symptoms, which typically begin one to four days after a person becomes infected, include coughing, runny nose, sore throat, headache, muscle or joint aches, and fatigue. The flu can spread through droplets transmitted during coughing, sneezing or talking. The flu can also be contracted by touching a surface or object with the virus on it. Washing hands with soap and water or using an alcohol-based hand sanitizer is important, but Johns Hopkins doctors say getting the flu vaccine is the best way to protect yourself against the virus.
"There will always be some people who get influenza despite being vaccinated, but the vaccine does protect against severe influenza and death," says Aaron Milstone, M.D., associate hospital epidemiologist for The Johns Hopkins Hospital and associate professor of pediatrics at the Johns Hopkins University School of Medicine. "It's important to get the flu vaccine, protect yourself and do your best to prevent the spread of the virus."
Please click here to view an interview with Maragakis and Milstone on the flu. Journalists can download raw sound bites, b-roll video and an anchor script here.
FOR THE MEDIA
Contacts:
443-510-5807
kpolyni1@jhmi.edu
shannon.jackson@jhmi.edu