ICTR in the News: Research Nutrition Featured in the Dome
Posted by: Crystal Williams on: July 22, 2015 | Print This Page
What's for Lunch?
Six nutritionist share their midday meal strategies.
By Karen Nitkin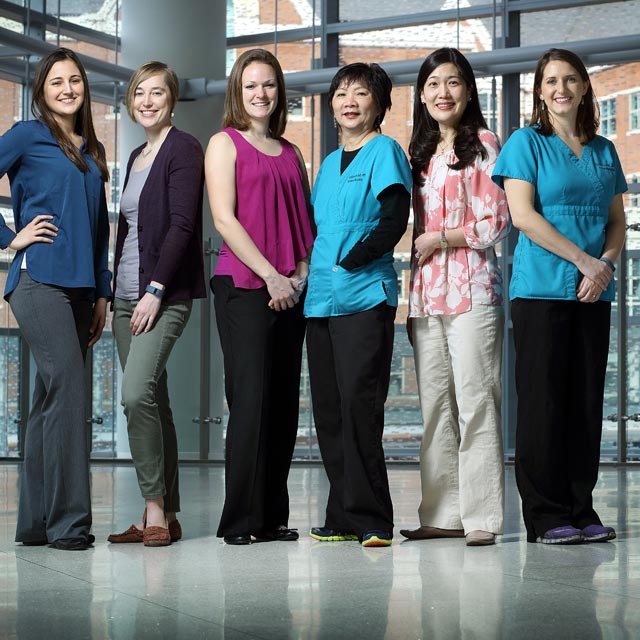 Bringing lunch to work instead of eating out can save money and improve health. But choosing nutritious, tasty and easy-to-make meals day after day can be challenging.
Six registered dietitians with the Johns Hopkins Institute for Clinical and Translational Research provide lunchtime inspiration. Each woman takes a different approach, influenced by her research, clinical work and particular nutrition needs. One is a distance runner who energizes with carbohydrates, while another chooses foods that combat menopause symptoms. All load up on fruits and vegetables, avoid foods made with artificial ingredients, and drink lots of water. They also eat healthy fats, enjoy occasional indulgences and don't obsess about calories.
The Low-Carb Eater: Bobbie Henry, 31, began eating a low-carbohydrate diet about five years ago to combat reactive hypoglycemia, a condition that impairs her ability to regulate blood sugar. As a result, her dramatic energy spikes and troughs have disappeared, she says. Henry treats patients in the Adult Epilepsy Diet Center, where research is showing that diets that are high in fat and low in carbohydrates can lower seizure rates. Her indulgences: super-dark chocolate (85 to 90 percent cocoa), pizza.
The Local and Sustainable Advocate: Diane Vizthum, 29, gravitates toward food that is locally grown. Recently, she and her husband purchased one quarter of a cow—more than 100 pounds of meat—from a Harford County farm. The grass-fed beef is portioned, packaged and in their freezer, and is ready for quick meals made with "a lot of vegetables, healthy fat, whole grains and protein," says Vizthum. Her indulgences: dark chocolate, cookies, brownies.
The Athlete: Melissa Moser, 25, runs about 70 miles per week and needs a diet that fuels all those footsteps. She tries to get about 60 percent of her calories from carbohydrates, 20 percent from protein and 20 percent from fat. Her research showing the dangers of food additives for people with kidney disease inspires Moser to "eat real food." Her indulgences: apples with peanut butter, trail mix, dry cereal, ice cream, chocolate.
The Antioxidant and Estrogen Proponent: Hong Brereton, 66, likes to cook, modifying recipes from her native Vietnam to meet her nutrition goals. She adds broccoli sprouts and other members of the cabbage family to prevent cell damage and fight disease, andshe includes flaxseed and other foods with plant chemicals called phytoestrogens to combat the symptoms of menopause. Her indulgences: fruitcake, mango, dates and a banana eaten with a wedge of Laughing Cow cheese.
The Busy Food-Lover: Meghan Ames, 27, captains a bicycling team, rock-climbs, hikes and takes yoga classes. When she can grab a few minutes in the kitchen, she'll make a big pot of something easy, like soup or a grain-based salad, and bring the leftovers with a green salad for lunch. Ames, a nursing nutrition instructor and state obesity program coordinator, offers simple weight-loss advice: Move more, and eat lots of produce. Her indulgence: mint chocolate chip ice cream.
The Working Mom: Susan Oh, 43, sneaks as much produce as she can into the diets of her three children, ages 8 to 12. She often makes entrees with tomato sauce, which contains the antioxidant lycopene, and adds pureed vegetables, including butternut squash, mushrooms, carrots, bell pepper, onions and garlic. She cooks on the weekends so she can heat up dinners during hectic weeknights; her family brings leftovers for lunch. Her indulgence: chocolate cake.
Click here to view the complete article and to print recipes.