Community Research Advisor Council Member to Receive a 2017 Martin Luther King Jr Community Service Award
Posted by: Crystal Williams on: January 5, 2018 | Print This Page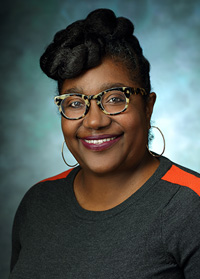 Darcenia McDowell, a laboratory service technician at the Johns Hopkins School of Medicine and a member of the ICTR's Community Research Advisory Council (C-RAC) will be recognized at the 36th annual Martin Luther King Jr commemoration held Friday, Jan 19 from noon to 1:30 pm in Turner Auditorium.
For the past two years, through her work with the C-RAC, she has successfully connected students with STEM opportunities and volunteered with the ICTR's youth programs.  McDowell is involved with our many Henrietta Lacks recognition initiatives and is instrumental in coordinating hands on laboratory visits to Baltimore City youth.
McDowell is among seven other individuals selected for their outstanding commitments to volunteer community service and to humanity.  "We are not here just for ourselves," she says. "Spiritually speaking, we have a responsibility to take care of each other."
To read more about McDowell's community outreach work, visit: http://intranet.insidehopkinsmedicine.org/mlk/2018/award-recipients.html
For more information about the C-RAC, including how to join, click here.