Trends in Clinical Research–The Need for a Patient-Centered Perspective
November 9, 2017 @ 1:00 pm

-

3:30 pm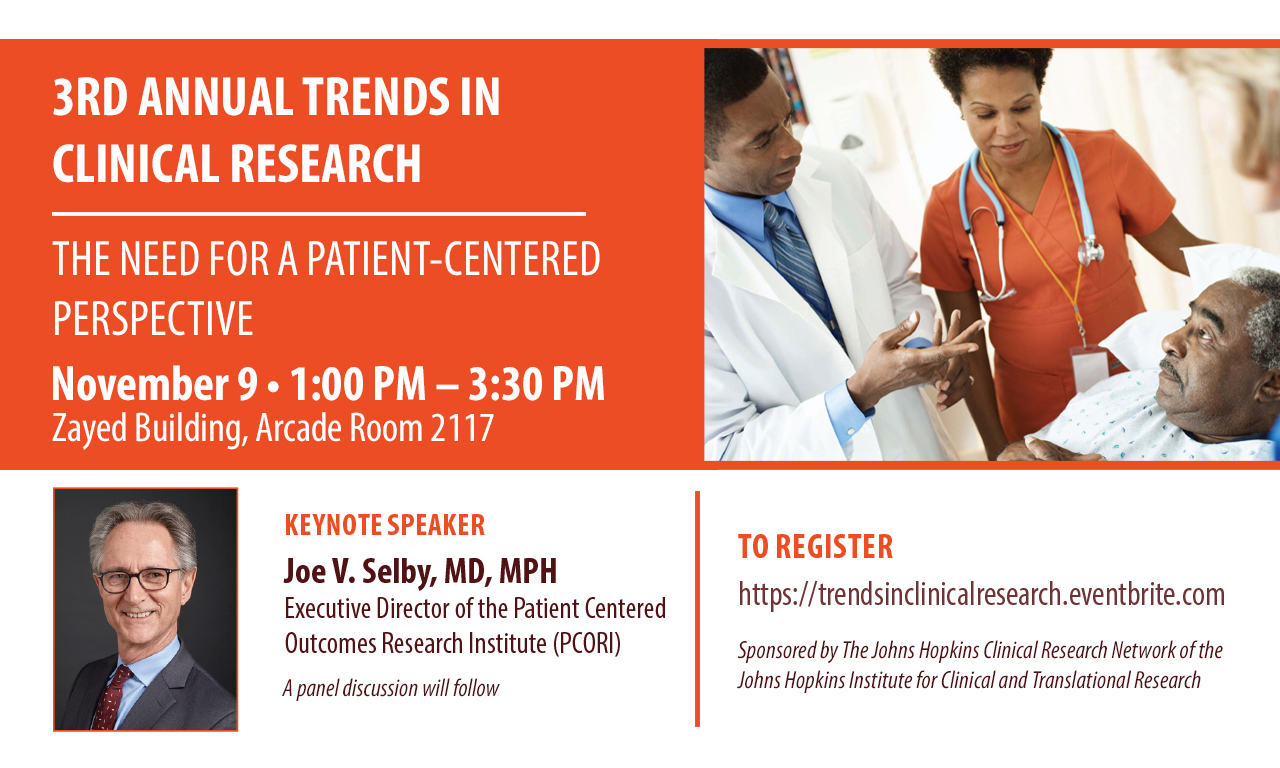 The Johns Hopkins Clinical Research Network of the Johns Hopkins Institute for Clinical and Translational Research is hosting a seminar, Trends in Clinical Research – The Need for a Patient-Centered Perspective on Thursday, Nov. 9, from 1 to 3:30 p.m., in the Zayed Building, Arcade Room 2117.
The keynote speaker is Joe V. Selby, MD, MPH, executive director of the Patient Centered Outcomes Research Institute (PCORI).  The theme of his presentation will focus on the patient, to determine research priorities. A panel discussion will follow featuring:
David George, MD, FACP, MBA is Vice President and Chief Academic Officer at Tower Health System (formerly Reading Health System) – "Patient Centered Research- Community/Regional Hospital Perspective."
Constance H. Baker, J.D., Managing Member CH Baker Firm, Patient reviewer for PCORI grant submission – "A Patient Perspective in Promoting Patient Engagement in Clinical Research."
Seth S. Martin, MD, MHS,  Assistant Professor, Cardiology , Johns Hopkins – "Mobilizing the Future of Clinical Research: A Perspective on App Development to Improve Patient Outcomes."
Claire Snyder, PhD, Professor of Medicine and Oncology,  Johns Hopkins – "Using Patient Reported Outcomes to Report Patient-Centered Care"
Daniel Grant PhD, Medical Director of Development Digital Medicines at Novartis Pharmaceuticals – "How Digital Technology is Allowing Us to Better Focus Clinical Research on Patients."
To register, visit: https://trendsinclinicalresearch.eventbrite.com.
For more information, download the event flyer or contact network coordinator Melissa Gerstenhaber at mgerste1@jhmi.edu.