2018 Henrietta Lacks Memorial Lecture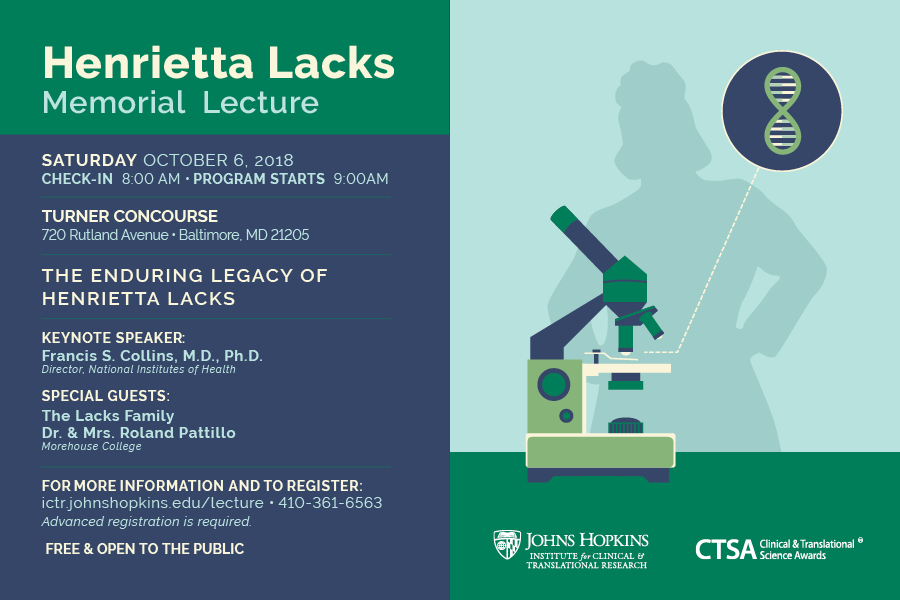 Join us as we celebrate the legacy of Mrs. Henrietta Lacks, Saturday, October 6 from 9:00 am to 12:30 pm., in Turner Auditorium, 720 Rutland Ave, 21205.
We are pleased to have Dr. Francis S. Collins, the current director of the National Institutes of Health (NIH), as our keynote speaker. Special guests include members of the Lacks family and Dr. and Mrs. Roland Pattillo of Morehouse College. The 2018 winners of both the Urban Health Institute's Henrietta Lacks Memorial Community Award and the Henrietta Lacks Dunbar Health Sciences Scholarship will be announced.
All are welcome and we look forward to seeing you.  Free parking is available in the Washington Street Garage, 701 N. Washington Street, Baltimore 21205.
Please view the attached flyer and share with your family, friends and colleagues.
Don't forget to follow us on social media! Facebook https://facebook.com/JohnsHopkins/ICTR Twitter https://twitter.com/ictrjhu & Instagram https://www.instagram.com/ictrjhu/
The goal of this event is to describe the reach and complexity, both biomedically and ethically, of the story of Henrietta Lacks and HeLa cells as well as to provide some insight into the past, present, and future of the conduct of clinical research. By honoring Mrs. Lacks and the positive global impact of HeLa cells through this lecture series, the ICTR hopes to acknowledge, thank and honor everyone who participates in the clinical research process.