Johns Hopkins – Sun Yat-sen University (China) Collaboration



The Johns Hopkins University (JHU) and Johns Hopkins Medicine International (JHI) signed an agreement with Sun Yat-sen University (SYSU) and its affiliated hospitals in Guangzhou, China in March of 2013. The vision is to provide a long-term platform for exchanges among clinical and translational investigators, research professionals and administrators, and to lay the foundation for building world-class research infrastructure in China.
Together, Johns Hopkins project leadership and experts travel to SYSU to teach courses and lead workshops designed to strengthen the development of investigators and research professionals. These experts design a competitive fellowship program at Johns Hopkins for promising SYSU investigators and junior faculty members, and provide strategic and technical advice on a wide range of issues that include research infrastructure, operations, safety and governance.
The agreement also provides pilot grants for collaborative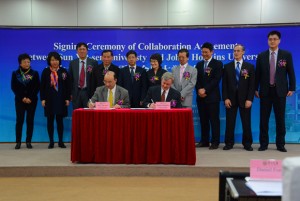 clinical and translational research projects that have the potential to develop into larger studies funded by industry or government sources in China and the United States. The research and population base within China allow faculty to learn more about conditions that are less prevalent in North America.
Under the agreement, the mission of the JHU, JHI and SYSU Collaboration is to:
Click the links below to learn more: