The Master Mentor program is designed to create cohorts of experienced and well-trained expert mentors of junior faculty who are maximally effective at enhancing the career trajectory of their mentees.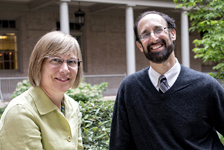 Jennifer Haythornthwaite, PhD, Professor, Psychiatry and Behavioral Sciences
David Yousem, MD, Professor, Radiology
Mission/Vision:
These Master Mentors are a resource that can coach and provide counsel to other less-experienced mentors within a department in handling difficult advisor situations and helping faculty develop and enhance interpersonal skills for optimal mentor-mentee interactions. Successful Master Mentors will accelerate the advancement of their mentees and elevate the quality of mentorship throughout their divisions/departments by providing a constant role model of the best mentoring possible. Each year, Master Mentor cohorts will address the most challenging problems currently facing faculty mentors via case studies, group discussions, and role-plays.
Selection Criteria:
The Master Mentor Program will be offered to senior faculty members each year via a nominating process from Department Directors, members of the Dean's office, or past graduates of the Master Mentor Program. Upon successful completion of the program a certificate of excellence from the Office of Faculty Development will be awarded.
Structure of the Course:
Four 3 hour workshops (see below; each is held 8:00 -11:00 am on the JHH campus) and 4 two-hour brown bag luncheons (noon -2:00 pm). Attendance is REQUIRED at all workshops and lunches.
Application Deadline:
Please contact Jennifer Haythornthwaite at jhaytho1@jhmi.edu.
To Apply:
All materials need to be submitted to the following website: https://ictrweb.johnshopkins.edu/ictr/management/
Required Materials:
Nomination letter from the candidate's Chair; letter from a Dean or Vice Dean; or letter from a graduate of the Master Mentor Program. This letter should describe the candidate's current mentoring activities. Since a primary goal of the MMP is to expand mentoring efforts throughout the university, this letter should also specify how the department will support the candidate's development of a mentoring program following completion of the program.
Candidate's Curriculum Vitae
Candidate's Personal Statement that includes the following:

Your goals for participating in the Master Mentor Program
Your commitment to attend all sessions
Once all materials are complete, you will receive email notification that your application is complete.